Trading on the Go, Anytime, Anywhere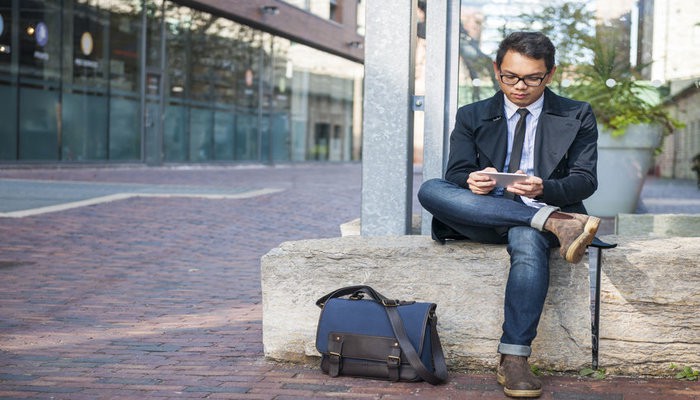 You could be on the beach soaking up the sun and building sandcastles. Or hiking through the woods, compass in hand and a rolled-up sleeping bag on your back. Or dangling off a cliff with nothing but your harness and safety line to keep you from falling off the rock face. As long as you have your mobile phone or tablet and your internet connection is sound, the stock market is within your reach.
Spiking gives you the convenience of being able to check on what's going on at the Singapore Exchange at any time, almost anywhere you can imagine. Given that the sky's the limit on when and where you can use your mobile devices to invest, we offer you some guidelines for times and places that might prove a little awkward for tracking stocks. We also have a few tips for on-the-go trading, and several suggestions for making sure your private information is secure wherever you might be.
Almost Anytime, Anywhere
Just because you can do something, doesn't mean you should — a common sense, rule of thumb which also applies to checking on the stock market via mobile, or just checking your smartphone in general. Here are a few times and places where you might be better off leaving your phone well enough alone, as compiled from, and suggested by The Stir, Time Management Ninja, and Social Times:
· The doctor's office during an exam
· A bar (after all, trading decisions should be made with a clear head)
· Places of worship and funeral homes
· Public restrooms
· Behind the wheel while driving
· During meetings
 
· During weddings and other ceremonies or social functions
· Airports or malls (unless you're sure you have a secure connection)
· In the movies
· During a date (unless you're sure you never want to see your date again)
· On theme park rides
· Elevators (besides, someone might be looking over your shoulder)
When Trading On the Go…
Use the Spiking app to track the performance of every stock spiking on the SGX, and if tracking while you're out and about is your thing, here are a few tips for mobile investing from JT Ripton on The Street:
· Don't "impulse-trade". The thing about having round-the-clock access to the stock market is that it can be tempting to buy or sell as a knee-jerk reaction to an update you have just received. Remember that investment decisions should be based on verified information, and not emotion (Spiking has given similar advice in previous post: https://spiking.com/blog/think-know-everything-investing/).
 
· Don't multi-task while trading. Investing is also something you want to give your full attention to — we don't recommend buying or selling stocks, say, while you're doing laundry, watching over your child at the playground or blowing out your birthday candles. It might be difficult to keep your investing goals in mind, or even to research about a particular stock, while you're doing something else.
 
· Do boost your connectivity. Make sure your data connection is fast enough to support your mobile stock market activities. You'll also need fast Internet at home if you feel like switching to your laptop for trading.
…Make Sure You're Secure
Being able to access the stock market from anywhere on your mobile device also means being exposed to mobile security threats. Writing for US News, Geoff Williams describes several ways your security may be compromised, which have chilling implications when it comes to accessing the stock market on your smartphone. 
 
To help secure your mobile transactions and safeguard your private information, Spiking has the following suggestions compiled from The Street, US News, BullGuard, and eBanking But Secure:
1. Protect your passwords. Online password generators such as Keeper are a good idea for securing investment or other financial activities on your mobile. You should also avoid easy-to-guess passwords such as "1234" or "password", and don't save passwords or PINs on your phone.
2. Use a PIN or pattern lock. Don't make it easy for thieves to access information stored on your phone. It is likewise advisable to use a SIM card lock, which is also a PIN, so that even if your SIM card is removed and used in another phone, it will remain inaccessible.
3. Safeguard your storage. As smartphone storage such as a microSD card is also removable, you would do well to encrypt any files on your smartphone. This is easily done using downloadable software.
4. Save on online servers. As an option to encrypting your files, you could also save your private information on a secure online server instead of on your phone. Doing so would also make it easier for you to access this information if you switch or lose your phone.
5. Be wary of Wi-Fi. Turn off your Wi-Fi connection when you're not using it, not just to save your battery power but also to prevent others from accessing your smartphone behind your back. This goes for Bluetooth as well. Double check whether your phone is set to connect automatically to any networks within range.
6. If you don't know them, deny. Any requests for log-in details, passwords and other information from a questionable source should be denied or simply ignored. If you get an unknown Bluetooth request to pair with your device or answer a message, ignore or deny instantly.
7. Download only from trusted sources. Only install apps that are absolutely necessary, and tread cautiously with apps available outside of Google and Apple.
8. Be careful with applications. Take careful note of the information an app will have access to when downloading it. Think twice before saving usernames and passwords in an app — while it makes the app easier to use, it also makes it easier for others to retrieve these details. This is especially important for stock market and other financial apps.
9. Be careful with MMS'. Some people use MMS' to send viruses. It would be better to delete any MMS you receive from unknown senders right away.
10. Don't answer automatically. Some people also use automatic call acceptance as a sneaky way to connect to your phone. It might be better to switch this setting off.
11. Look for the "s" or the padlock. If a URL has an "s" at the end of the "http", or if there is a padlock icon behind it, that means the connection is secure or encrypted. Look for these particularly when using websites that ask for private information.
12. Keep it covered. Cover your phone whenever you enter your PIN, and make sure nobody is looking over your shoulder when you do. You could also use privacy filters and screen protectors that prevent people next to you from seeing what's on your phone.
13. Keep up to date. Use only the latest system version of your smartphone or tablet, and the latest version of your antivirus software as well as a personal firewall.
Trade on the Go with Spiking
With just a tap or two in all the right places, the Spiking app puts all this real-time information and more right at your fingertips, any place you choose to go:
· Who's buying and selling which SGX stocks
· Access to verified portfolios of over 11,000 blue whale investors
· Notifications from specified sophisticated investors or stocks
· A company's significant shareholders
· A chat function for reaching out to your fellow investors
Download the Spiking app now from iTunes or Google Play, and get your Pioneer Member badge, which is available for a limited time only. Visit the Spiking app homepage today.
Sources:
http://thestir.cafemom.com/good_news/139316/10_places_too_awkward_to
https://timemanagementninja.com/2014/09/27-places-and-times-you-dont-need-to-check-your-phone/
http://www.adweek.com/socialtimes/5-places-you-should-never-use-your-smartphone/123787 
https://www.thestreet.com/story/12282792/1/4-tips-for-day-trading-with-your-smartphone.html
https://deviceatlas.com/blog/16-mobile-market-statistics-you-should-know-2016
http://www.investopedia.com/articles/investing/022715/how-millennials-use-tech-social-media-invest.asp
http://www.bullguard.com/bullguard-security-center/mobile-security/mobile-protection-resources/8-ways-to-keep-your-smartphone-safe.aspx
https://www.ebankingbutsecure.ch/en/your-security-contribution/extended-protection/mobile-banking
http://money.usnews.com/money/personal-finance/articles/2015/06/09/4-surprising-ways-your-identity-can-be-stolen