Spiking x QUOINE Bring World's First Private Token Sale on an Exchange. Join the movement today!
We are very excited to launch our Private Sale on QUOINE's innovative ICO Mission Control Platform from today, 6 June to 6 August 2018.
We are very excited to launch our Private Sale on QUOINE's innovative ICO Mission Control Platform from today, 6 June to 6 August 2018.

Spiking brings transparency to the cryptocurrency and stock exchanges through real-time verified information on trades made by the Whales. Spiking is the world's first such platform — a hybrid of stocks and cryptocurrencies in one app, designed to enable users to make informed trading decisions by tracking the verified trading activities of Whales.

How to Participate in Spiking Private Sale
Traders who hold at least $10,000 worth of a combination of QASH, ETH, BTC or BCH in their QRYPTOS accounts (QUOINEX accounts are not included in this) will be able to access the Private Sale through QUOINE's ICO Market and get access to the Private Sale bonus. The minimum purchase amount has been set at $10,000 worth of SPIKE tokens.
Spiking private sale x QUOINE will kick off on June 6, 2018! Do not miss this chance to be an early investor of Spiking & get an exclusive bonus!


As featured on MarketWatch.com.

SINGAPORE, May 29, 2018 /PRNewswire/ — Spiking, a Singapore-based financial-technology trading application, will partner with global blockchain fintech company QUOINE to launch its Initial Token Offering (ITO) private sale on QUOINE'S ICO Mission Control on 6 June 2018.
QUOINE's ICO Mission Control is an end-to-end solution designed to help blockchain project teams conduct a successful ICO with best practices of KYC and AML. ICO Mission Control is integrated within QUOINE's QRYPTOS exchange, which will soon be merged with the QUOINEX exchange to become the LIQUID by QUOINE.
This will be the first time a private sale portion of an ICO is conducted directly on an exchange. The platform allows for a select group of QUOINE'S KYC-approved user base to access and participate in Spiking's ICO private sale directly.
"QUOINE has been at the forefront of helping blockchain project teams with best practices and market access. ICO Mission Control now allows for successful and responsible ICOs to deliver the highest standards in security and technology," said QUOINE Co-Founder and CEO Mike Kayamori. "By partnering with Spiking for access to its private sales, we have increased our offering of services even further to our customer base."
In conjunction with the private sale launch, Spiking will offer a special bonus to QUOINE's existing customers who hold balances in excess of pre-defined amount of cryptocurrency, via a Special Sales Channel only accessible by them.
"We are both honoured and excited to provide QUOINE's customers with ready access to Spiking's ITO private sale. This is in line with our objectives to bring cryptocurrencies to the mass market," said Dr. Clemen Chiang, CEO of Spiking.
The Spiking platform allows traders to find key executives of large companies behind cryptocurrency tokens, mining pools and/or large holders, called "Whales" in the Spiking community, and follow their cryptocurrency trades[1]. Powered by state-of-the-art tools where followers meet Whales in a completely transparent environment, it will be built on a modern technology stack with fully audited security standards. The Spiking platform intends to do this by using smart contracts on the blockchain, allowing users to mirror the trading activity of any Whale and control their own segregated trading accounts directly.
Spiking is supported by a strong technical team, with Dr. William H. Nguyen as Chief Blockchain Architect. Dr. Nguyen is also the Chief Crypto Architect of GIFTO, one of the fastest selling ICOs in Asia.
The Spiking app has received support from Quest Ventures and the National Research Foundation, Singapore Prime Minister's Office, under the Interactive & Digital Media Strategic Research Programme's i.JAM Reload initiative. In October 2016, Clemen was awarded the gold award for the Spiking app at the SiTF Awards 2016, for Best Innovative Start-up (Early Stage), by the Singapore Infocomm Technology Federation.
https://www.marketwatch.com/story/spiking-and-quoine-partner-to-launch-worlds-first-private-token-sale-on-an-exchange-2018-05-29
---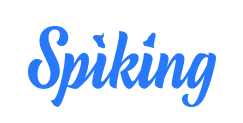 Drawing from its successful and rich experience in the stock market since 2016, Spiking is expanding to cryptocurrency trading! With its unique and powerful trading tool and its AI robot Robobull, Spiking enables traders to easily find whales and mirror the trades automatically. At Spiking, we strive to help traders make better decisions and take the steps toward fulfilling their dreams of achieving financial freedom. Check out Spiking App, Top Grossing Finance App at App Store & Google Play.
Keep in touch with us.