Spiking: The Next Wave of Fintech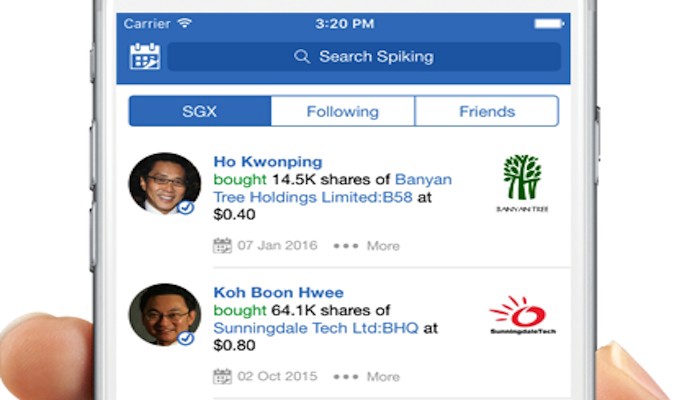 As part of its objective to become the world's first smart nation, Singapore aims to become a smart financial centre. In this smart nation, technology makes everybody's lives easier, which includes making any transaction involving finances.
By definition (of the Oxford dictionary, no less), fintech supports and enables banking and other financial services. And as one of the latest fintech apps to debut in Singapore, Spiking is fast becoming indispensable to stock market investors tracking the action on the Singapore Exchange.
In this post, we'll take a look at how fintech in general is making an impact on the business world, and why Spiking is spiking on the fintech radar.
Fintech For Everyone
Singapore is well on its way to reaching its smart financial centre objective — the city-state comes in third with 15% after Hong Kong's 29% and the United States' 17% in terms of fintech adoption rates by country. These percentages provided by Ernst & Young reflect digitally active people who have used at least two fintech services in the last six months.
People don't have to look far to find fintech, as it has come to revolutionise such transactions as
mobile payments
money transfers
loans
fund raising
asset management
buying and selling stocks
Smartphones have put fintech within easy reach for everyone, anywhere. Because of this, people have come to expect the same convenience provided by email or social media from their financial services providers. Spiking, for instance, allows investors to keep track of how well stocks they have invested in are doing on the SGX at any time they choose.
And since financial service providers of all sizes all have apps competing for users, people have also come to expect smaller providers to offer the same range of services as their bigger, more established competitors.
Fintech for and by Entrepreneurs
Businesses are increasingly turning to fintech to help set up shop and to keep the ball rolling. Fintech provides quicker, easier and cheaper alternatives to well-trodden roads such as going to the bank for a business loan. Some of these alternatives include crowdsourcing and overseas money transfers online.
And because fintech makes doing business easier for businesses, fintech as a business in itself continues to grow exponentially. With more than 5,000 start ups around the world and over USD20 billion in global investments, fintech is the world's fastest growing industry. In Asia, fintech funding shot up by more than 300% in 2015 to hit an all-time record of USD6.5 billion.
Vedanvi identifies three main causes behind fintech's explosive growth:
technological innovation
more internet savvy consumers
regulation and government support
Singapore, together with Hong Kong and Seoul leads the Asian region in terms of government support for fintech development. Spiking itself has received support from the i.JAM Reload Programme conducted by the National Research Foundation, which is under the Singaporean Prime Minister's Office.
Spiking is First-rate Fintech
As a sterling example of fintech innovation, Spiking leverages technological development to fill a financial need: the need of investors at the Singapore Exchange to make better-informed investment decisions. Instead of rumour and speculation, these decisions are to be based on data gathered directly from the SGX itself.
This data includes the trading activities of more than 8,000 sophisticated SGX investors. To be more specific, every transaction that they make and disclose is sent via the Spiking app to investors' mobile devices in real time. Machine-reading algorithms verify all data passing through the system, assuring app users of its veracity.
Spiking also provides users with information such as:
a company's top 20 shareholders
the price and quantity of a sophisticated investor's latest transactions
stocks that make up a top investor's portfolio
The Spiking app likewise enables users to follow their favourite stocks or famous investors, as well as form private discussion groups with their fellow investors. The app even provides sophisticated investors with resources for conducting due diligence, influencing board decisions, and privileged information which is not readily available to the investing public at large.
Spiking's Future Fintech
Just as technology is constantly evolving to meet the ever-changing needs of its users, Spiking has updates in the works to better serve investors. Among the first of these updates is an online trading service which will make it possible for users to buy and sell shares using the Spiking app.
Online stock market trading options have mushroomed overseas in the past few years. The providers of these services continually encourage investors to carry out all their stock market transactions online. The days of going to a traditional stock broker are long gone, they say, and investors ought to take both their investments and trading strategies into their own hands.
Spiking's online trading platform is set to promote online stock market trading among Singapore's investors, particularly millennials who are starting to stretch their investment wings. In one of its 2015 reports, the Jakarta Post says that a growing number of Singaporean investors aged 25 and below are turning to the stock market to grow their savings, and that most of them prefer to transact online.
In the Fintech Pipeline
Online trading through the Spiking app is just the tip of the iceberg for fintech in the coming years, or even the coming months. Some of the up and coming fintech trends as compiled by Futuresmag and Fintechnews Singapore include more:
complex collaboration between technological platforms
use of artificial intelligence and virtual reality
robo-advisors
big data
alternative products
developments among the sharing economy
automated processes
fintech IPO's
security management
regulation for fintech companies
use of blockchain technology
coverage and connectivity for mobile devices
Business Insider also points out how fintech is radically changing not just businesses or industries as a whole, but careers on the individual level. On top of markets and exchanges and wealth and asset management, in which Spiking particularly plays a key role, fintech is revamping the way business is done in:
retail banking
lending and financing
payments and transfers
insurance
blockchain transactions
Ride the wave of fintech innovation with Spiking! To find out more about how Spiking can help you make smarter, speedier investment decisions on any stock spiking on the Singapore Exchange, visit the Spiking homepage today!