Sophisticated Investor Profile: Ong Bee Huat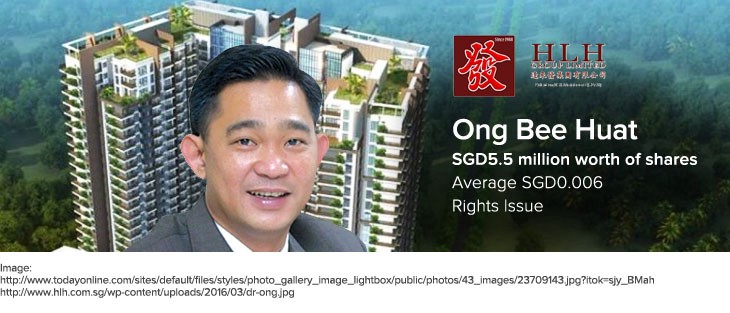 Dato' Dr Ong Bee Huat or "Johnny" is the Deputy Chairman, Chief Executive Officer and Founder of the HLH Group, Ltd. As Deputy Chairman and CEO, he oversees the Group's strategic direction and planning, and spearheads its business development.
The Sultan of Pahang, Malaysia conferred the title "Dato'" on Dr Huat in 2000 in recognition of his achievements as a distinguished entrepreneur. Among Dr Huat's distinctions are his Doctorate in Business Administration which he obtained from the University of Wisconsin System in the United States.
Concurrently the Managing Director of First World Realty Pte Ltd, and Managing Director of Abundo Pte, Ltd, Dr Huat is also the Founder of Hong Lai Huat Construction.
Dr Huat's HLH Group
Founded by Dr Huat in Singapore in 1998, HLH Group Limited is an investment holding company focusing on property development and agriculture. Since its first residential development project, "D'Ecosia" in 2001, HLH Group went to on to complete several residential and industrial projects across Singapore such as
D'Fresco
D'Castilia
D'Lithium
D'Kranji Farm Resort
Clementi Factory
Sunshine Place
Yew Tee Community Centre
In 2015, HLH Group's Property Division also expanded overseas into Cambodia, where Dr Huat has been active since 2008. The Property Division is working to provide affordable, high-quality housing under the Camhomes brand in Sihanoukville, Phnom Penh and Siem Reap. It has a number of industrial and mixed-development projects underway in the country as well.
For its part, HLH Group's Agriculture Division has one of the largest privately-owned cassava plantations in Cambodia with about 11,000 hectares.The plantation produces between 120 and 150 tons of cassava starch daily.
On the Singapore Exchange, HLH Group made its debut as the Hong Lai Huat Group in 2000, before being listed on the Singapore Exchange's mainboard as HLH Group Limited. With an average volume of 4,187,651, HLH Group's last share price was SGD0.01 as of 11:03PM on April 29th.
Dr Huat in action
Dr Huat's latest trading activities include buying 919.7 million direct shares of HLH Group Limited at SGD0.006 in mid-April. He also increased 10 million deemed shares of HLH Group Limited at SGD0.011 in mid-September last year.
Follow the trading action of Dato' Dr Ong Bee Huat, and more than 8,000 of Singapore's top investors in real time at spiking.com/v/ongbeehuat. Download the Spiking app for free on the App Store today!