Kenneth Griffin of Citadel made $1.7 billion
Kenneth Cordele Griffin (also known as Ken Griffin) is the founder and CEO of Citadel LLC., a Chicago-based hedge fund. Griffin, a…
Kenneth Cordele Griffin (also known as Ken Griffin) is the founder and CEO of Citadel LLC., a Chicago-based hedge fund. Griffin, a perennial top performer has consistently been ranked among the top 10 best performing hedge fund managers over the last 5 years, topping the list in 2014 and 2015.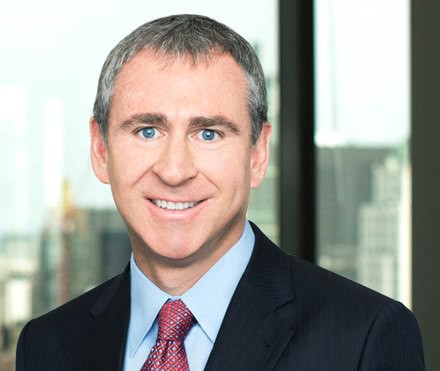 2015 was particularly a great year for Griffin and Citadel as he raked in a massive $1.7 billion despite most hedge funds losing money on account of a flat market and an impressive performance by stocks. Although the value dropped to $600 million in 2016, he still made the top ten list, appearing at number 6.
It is that consistently good performance that has seen Griffin gain a reputation as one of the best hedge fund managers globally. It is barely a surprise that Citadel now has over $25 billion worth of assets under management.
Citadel: Beginnings and Investments
Born in 1968, Kenneth Griffin founded Citadel in 1990. He had first began trading from his dorm room in 1987 when he was a mere sophomore at Harvard University. At the time he only used a PC, fax machine and telephone to trade.
He started a hedge fund worth $265,000 in his second year thanks to capital contributions from family and friends. He used the funds to trade in convertible bond arbitrage. By the time he graduated from Harvard (in 1989 with a degree in economics), Griffin's fund was managing assets worth over $1 million. It is that early success that caught the attention of Frank Meyer, a hedge fund pioneer, investor and founder of Glenwood Capital LLC.
Meyer gave Griffin $1 million to invest. He used the opportunity to start what would later be Citadel. By 1998, the company had grown massively and boasted of just over $1 billion in investment capital. It went on to record huge returns in subsequent years, save for 2008 when its Kensington and Wellington Funds lost a combined 55%. The loss was a direct result of the 2008 financial crisis.
Citadel bounced back in 2009, registering solid returns in 2010 and 2011. By 2012, the Kensington and Wellington Funds had made full recoveries and recorded gains of 25%. That was largely reflected in 2013 when the Hedge Funds Review Americas Awards named Citadel the best overall hedge fund.
Today, Citadel is one of the largest and most successful hedge funds globally with offices in North America, Europe and Asia. The company has over $25 billion worth of assets under management. Similarly, Griffin is one of the richest people in America and the world. With his estimated net worth of $8.5 billion, he is the richest person in Illinois and ranks 52nd in the whole of America.
Major Investment Areas
Kenneth Griffin, through Citadel, manages investments across various areas. They include equities and stocks, commodities and credit. His success is largely attributable to spot-on risk management strategies, fundamental research and the use of ultra-modern technology.
Other than investments, Griffin also provides liquidity and trade execution through Citadel Securities (established in 2002), a subsidiary of Citadel. He also develops investment management technology through Citadel Technology (founded in 2009), an independent affiliate company of Citadel.
Philanthropy and Legacy
Kenneth Griffin was inducted into the Institutional Investors Alpha's Hedge Fund Manager Hall of Fame in 2008. He is also a philanthropist who donates funds to various causes and organizations. In total, he has donated over $500 million, including a $150 million donation to Harvard University for the institution's financial aid program. He is an ardent lover of art.
---
You can track the Buy/Sell action of Kenneth Griffin on the US stock market at https://spiking.com/v/griffinkennethc.

You don't have to own a company to invest in the New York Stock Exchange or Nasdaq. You can invest privately! With Spiking by your side, you can keep track of the latest stock spiking on both bourses through your smartphone. Just download its FREE mobile app: for Android on Google Play, or for Apple on iTunes today. Don't forget to subscribe to the Spiking Weekly Letter as well to get noteworthy investing tidbits.
Photo credit:
https://en.wikipedia.org/wiki/Kenneth_C._Griffin
Sources:
http://money.cnn.com/2016/05/10/investing/hedge-fund-managers-income/index.html
https://www.forbes.com/lists/2013/hedge-fund-managers-13_land.html
https://www.marketwatch.com/story/top-5-highest-earning-hedge-fund-managers-of-2013-2014-05-06
http://www.businessinsider.com/the-10-highest-earning-hedge-fund-managers-in-2014-2015-5?IR=T
https://www.cnbc.com/2017/05/17/the-top-earning-hedge-fund-managers-raked-in-11-billion-last-year.html
https://ipfs.io/ipfs/QmXoypizjW3WknFiJnKLwHCnL72vedxjQkDDP1mXWo6uco/wiki/Citadel_LLC.html
https://en.wikipedia.org/wiki/Kenneth_C._Griffin
https://en.wikipedia.org/wiki/Citadel_LLC