Hot Investment Profile: Wilmar International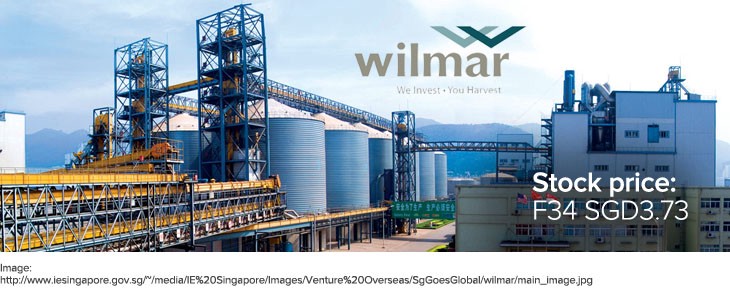 The leading agribusiness group in Asia today, Wilmar International was one of last week's top five value traded and upwardly mobile shares on the Singapore Exchange (SGX). Founded in Singapore in 1991 by Kuok Khoon Hong and Martua Sitorus, Wilmar is one of the biggest listed companies in terms of market capitalisation on the SGX.
Company Snapshot
Wilmar International is an investment holding company whose operations cover the entire agricultural commodities value chain:
Oil palm cultivation
Oil seed crushing
Edible oils refining
Sugar milling and refining
Specialty fats
Oleochemicals
Biodiesel and fertiliser manufacturing
Flour and rice milling
The company is an industry leader in several key areas:
Palm and lauric oils: World's largest processor and merchandiser
Oil palm plantation owner: One of the largest
Palm oil refiner: Largest in Indonesia and Malaysia
Flour and rice miller: One of the largest in China
Raw sugar producer: Among global top 10
Edible oil refiner: One of the largest in Ukraine
Largest oilseed crusher, edible oils refiner, specialty fats and oleochemicals manufacturer
Largest raw sugar producer and refiner
Wilmar has about 92,000 employees, more than 5,000 manufacturing facilities, and its own fleet of vessels. Its distribution network spans more than 50 countries including China, India and Indonesia. The company is also an advocate of sustainable growth.
Wilmar enjoys access to R&D, technology and global market intelligence on related industries through its shareholders. Among them are
The Kuok Group of companies of Johor Bahru, Malaysia: One of Asia's most active and diverse multinationals involved in sugar, fertilisers, flour and feed milling
The Archer Daniels Midland Company of Decatur, Illinois: The leading ethanol and biodiesel producer, and one of the world's biggest soya bean, corn, wheat and cocoa processors
Wilmar is a 2015 Fortune 500 company (ranked 252nd) and one of Fortune World's Most Admired Companies in 2016 (3rd in the Food Production industry).
Stock Analysis
Bloomberg reports a 26.87% YTD return for Wilmar, with a one-year return of 17.33%.
Wilmar has a dividend-indicated gross yield of 2.14%, with an earnings per share of USD0.166.
Latest Developments
See who among the more than 8,000 top investors in Singapore are buying and selling Wilmar International shares! Download the Spiking app for free on the App Store today!